THE ASWAN HIGH DAM
Note: Ezekiel 29-32 are part of a general prophecy about the downfall of Egypt.
Dates:
Began: 9 January 1960
Reservoir started filling: 1964
Opened: 21 July 1970
Formally Dedicated: January 1971
Reached Capacity: 1976
Pr Jock has copies of the original articles:
One in the Readers Digest at that time – 'Super Dams the Peril of Progress' by Claire Sterling. Condensed from the Atlantic Monthly – June 1972 and;
the other article 'A Melancholy song on the Nile' – by Richard Critchfield in the International Wildlife – May/June 1976.
The first time in all recorded history of the flooding of the River Nile it was stopped in 1967 by the dam [not completed until early 70's] The same year that "… And the land of Judah shall be a terror unto Egypt…" Isaiah 19:17 (6 day war). Pr Jock can scan copies of these articles to anyone interested.
References:
Possible Picture references
Abu Simbel Gallery – Flickr
Lake Nasser Gallery – Flickr
From Wikipedia
NASA satellite image of the Nile, Aswan High Dam, and Lake Nasser – southern Egypt. The Aswan High Dam was completed in 1970 and is one of the largest earthen embankment dams in the world. It is 364 feet (111 m) tall, 12 565 feet (3830 m) long and nearly 3281 feet (1000 m) wide. When it was built the new reservoir required relocation of nearly 100 000 residents and some archaeological sites. Although the reservoir has benefited Egypt by providing power and controlling floods, it has also had detrimental effects on the Nile system. Before the dam, an estimated 110 million tons of silt was deposited by the annual flood of the Nile, enriching agricultural lands and maintaining the land of the Nile delta. Now this sediment is trapped behind the dam, requiring artificial fertilization of agricultural lands and leading to erosion and saltwater intrusion where the Nile river meets the Mediterranean Sea. ~ Wikipedia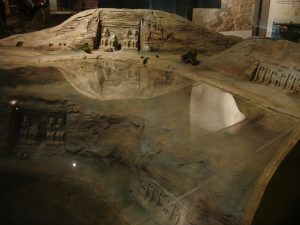 The Abu Simbel temples are two massive rock temples at Abu Simbel (أبو سمبل in Arabic), a village in Nubia, southern Egypt, near the border with Sudan. They are situated on the western bank of Lake Nasser, about 230 km southwest of Aswan (about 300 km by road). The complex is part of the UNESCO World Heritage Site known as the "Nubian Monuments,"[1] which run from Abu Simbel downriver to Philae (near Aswan). The twin temples were originally carved out of the mountainside during the reign of Pharaoh Ramesses II in the 13th century BC, as a lasting monument to himself and his queen Nefertari, to commemorate his victory at the Battle of Kadesh. Their huge external rock relief figures have become iconic. The complex was relocated in its entirety in 1968, on an artificial hill made from a domed structure, high above the Aswan High Dam reservoir. The relocation of the temples was necessary to prevent their being submerged during the creation of Lake Nasser, the massive artificial water reservoir formed after the building of the Aswan High Dam on the Nile River. ~ Wikipedia
From Britannica
All these structures were thoroughly explored and reinforced (1895–96) before being partially flooded behind the old Aswan Dam. In 1907 a careful inspection revealed that salts in the water were harming paints on the decorations. When the temples reemerged after 1970 with the completion of the High Dam upstream, it was found that considerable damage had been done to the shrines. A decision was therefore made to remove them to higher ground on the nearby island of Agilkia. The island was leveled to resemble the original Philae, and the temples were rebuilt, restoring to them some measure of their original beauty prior to their formal reopening in 1980.
https://www.britannica.com/place/Philae-island-Egypt#ref79956